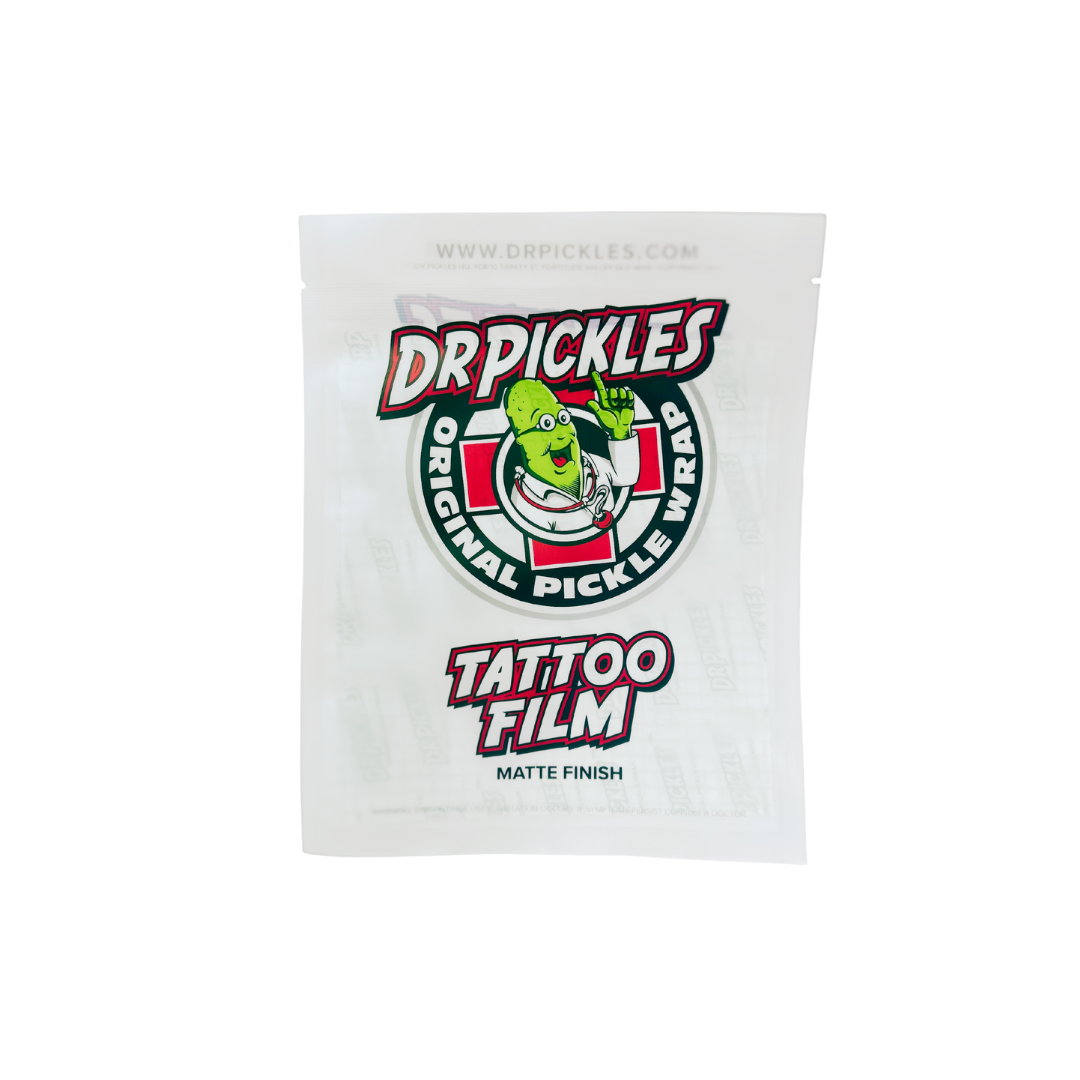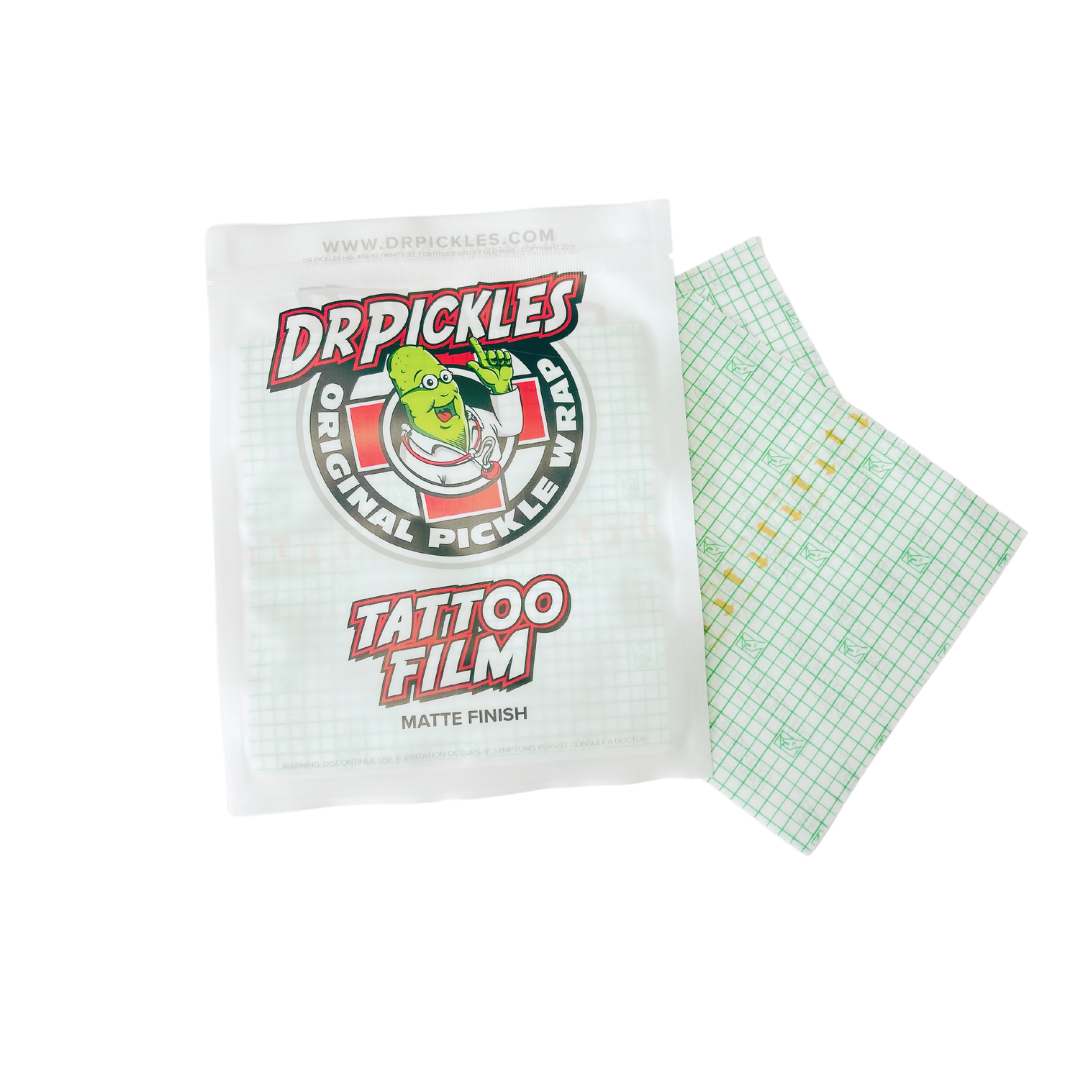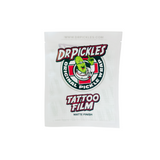 Dr Pickles Tattoo Film Sachets
TOTAL PRICE
(Includes GST)
Regular price
$19.95
Product Details
Dr Pickles Tattoo Film Sachets
Dr Pickles Tattoo Film is a hypoallergenic, transparent, adhesive bandage perfect to keep your fresh tattoo clean and safe. Our film has a matte finish, is waterproof, breathable and is very thin, this not only prevents catching and peeling, but also offers a very gentle adhesive for its users. No more ripping out ink, skin, or hairs when it's time for remove it!

Some of our key features of our tattoo film are:
All natural
Australian Made
Cruelty Free
Paraben and chemical free
Designed for Tattooed Skin
This product is not designed to treat infection, but rather should be used as a preventative for infection.

Each sachet includes two pieces of Tattoo Film, sized 14cm x 15cm.

Use in conjunction with Dr Pickles Tattoo Balm and Dr Pickles Tattoo Foam Wash for best results. Best removed in the shower with warm water to relax adhesive.

Directions of Use:

After the tattoo is completed, most tattoo artists will wrap over the fresh tattoo with cling film or a Tattoo Film. Depending on your artist's instructions, we recommend removing the Tattoo Film when you get home after your session with warm (not hot) water then wash away the blood and excess ink with Dr Pickles Tattoo Foam Wash.
Pat the tattoo dry with a clean towel or paper towel and let it air until the skin is starting to feel tight and dry. It is important to let the tattoo breathe like this any time it gets wet before it goes into the peeling stage.
If necessary, cut the Tattoo Film to suit the size of your tattoo, ensure the orange strip is in the middle of your cut portion. We suggest leaving a minimum of 1 cm gap between the edge of the tattoo and the Tattoo Film.
Before touching your fresh tattoo or handling the Tattoo Film sanitise your hands with Dr Pickles Tattoo Foam Wash.
Apply the Tattoo Film to your tattoo leaving a minimum of a 1 cm gap between the edge of the tattoo and the Tattoo Film. This will help the tattoo adhere to your skin.
When removing the film, wash your fresh tattoo with warm water and Dr Pickles Tattoo Foam Wash. Gently remove any excess ink, fluids and blood under the running water.
Pat dry and leave to air before applying Tattoo Balm, we only recommend using Tattoo Film for the first 48 hours of the healing process then moving onto the Wash and Heal tattoo care method.
Please note, as Dr Pickles Pickle Wrap is a very thin adhesive, we do not recommend the wrap to be left on a tattoo over two consecutive days.
If reapplying Dr Pickles Pickle Wrap, place a very small amount of balm on the tattoo, then reapply the Pickle Wrap with sanitised hands.
Shipping & Delivery
In addition to offering the best shipping rates available, we also offer Free Shipping (via AusPost) on all orders valued over $100 and encourage all of our customers to take advantage of this service.
All parcels are shipped from our Melbourne warehouse. Once an online order is placed, it will typically be dispatched the following business day. You'll also receive an email with your tracking information once your order has been shipped.
Approximate delivery times for Standard & Free Shipping are as follows;
Metropolitan (Melbourne, Sydney, Brisbane, Adelaide) - 2 to 5 business days;
Regional NSW, VIC, QLD, ACT, SA, WA, NT - 5 to 7 business days;
Remote QLD, SA, WA, NT, TAS - 7 to 10 business days;
Should you require your order urgently, please select Express Shipping during Checkout.
For more information, please refer to our Shipping & Delivery Policy.